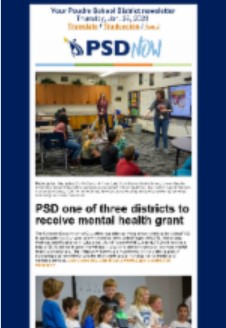 The Jan. 26 PSD Now edition includes:
PSD Receives Mental Health Grant to Grow Services
Bamford Elementary Opens Pack Pantry to Help Others
Community Engagement Sessions
Translations: Español Jan. 26 PSD Now  |  عربي  Jan.26 PSD Now
Sign up for PSD Now! Get PSD Now community updates delivered to your inbox (about every two weeks). You can unsubscribe at any time. For previous newsletter editions, see the archive.