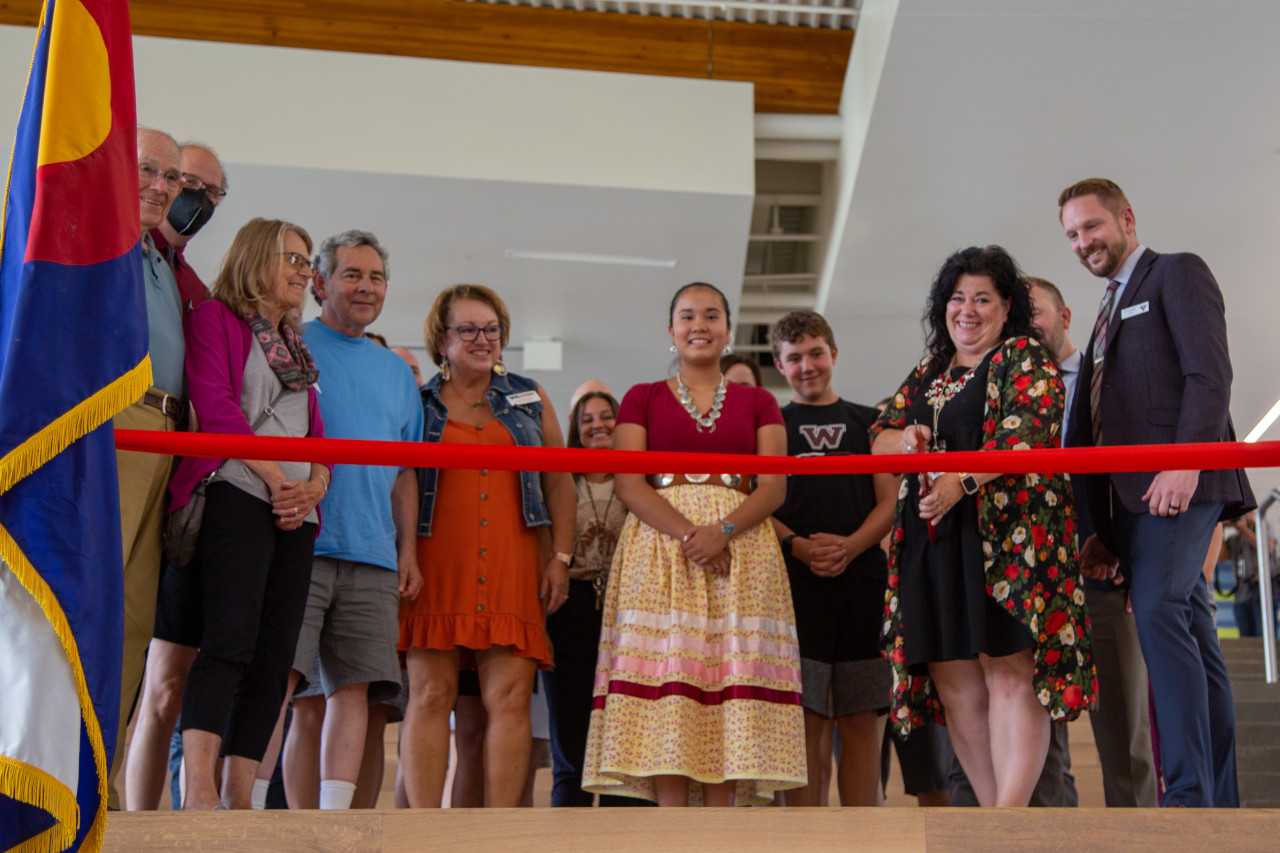 After 58 years, the wait is over. The Town of Wellington has a high school once again.
The Poudre School District and Wellington communities came together on Aug. 11 for the grand opening of Wellington Middle-High School (WMHS). After a ribbon-cutting ceremony, students and their families, community members, local leaders, and school district staff explored the new school during a community open house.
"We look forward to once again becoming the secondary Wellington school with a vision of igniting curiosity, nurturing, resiliency, and inspiring lifelong learning," said Kelby Benedict, WMHS' first principal. "We will be preparing students to give back to the community that they're such an integral part of."
Located at 2856 Cleveland Ave. (west of Interstate-25, at County Roads 9 and 62E), WMHS opened its halls this school year to roughly 900 students in grades six through 10 for the 2022-23 school year. The school will grow by a grade level each year to accommodate up to 1,500 6-12 students. The WMHS inaugural senior class will graduate in 2025.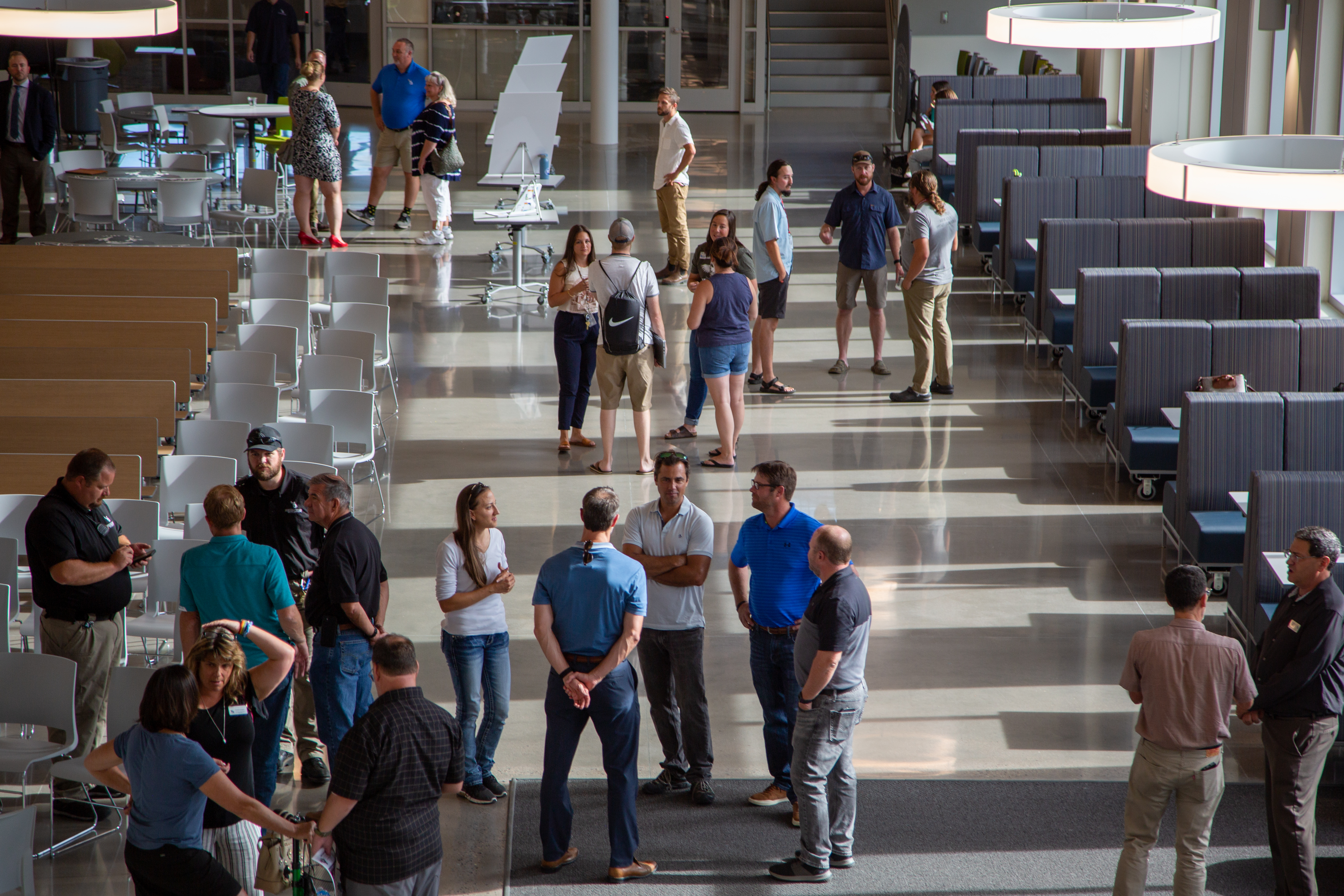 Funded by a 2016 bond, the approximately 247,500 square-foot school features a performing arts area, flexible learning spaces, and an outdoor central learning park, among other amenities.
Although having a brand-new building designed with impressive features and the latest technology is exciting, it would be nothing without students.
"We're just a few moments away from having children, young adults, walk through this building," said PSD Superintendent Brian Kingsley at the ribbon-cutting event. "It's not just about Friday night lights. It's not just walking across the stage getting your diploma. It's the everyday experience that young people in this town can now look forward to."
The opening of WMHS begins a new era for Wellington, a community made even stronger by its heritage and deep roots.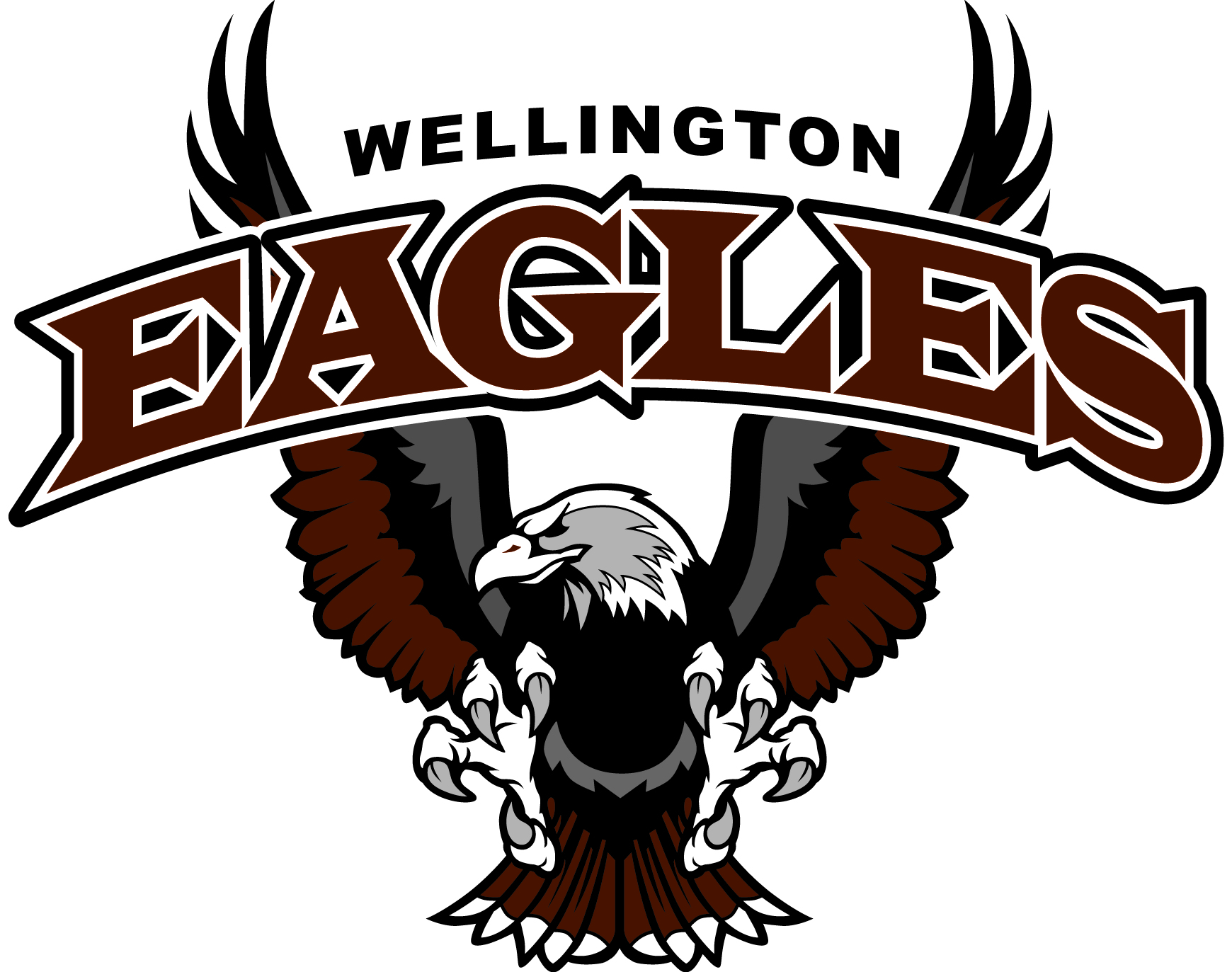 Throughout the Town of Wellington's school history, many changes and expansions have taken place. The first Wellington schoolhouse was a two-story building built in 1902; it was replaced by a brick building in 1917. From there, the original Wellington High School opened its doors in 1926 and graduated its final class in 1964. When the high school closed, students started commuting to newly opened Poudre High School in Fort Collins. The former Wellington High School building remained open for junior high students until 1993 when the former Wellington Middle School building replaced it.
Despite shifting buildings and grade levels, a few things have remained the same. The eagle mascot, the school colors of maroon and white, and the community's deep pride in its schools are steadfast. The new school's grand opening offered a chance for alumni to reflect on their experiences and hopes for future students who follow in their footsteps.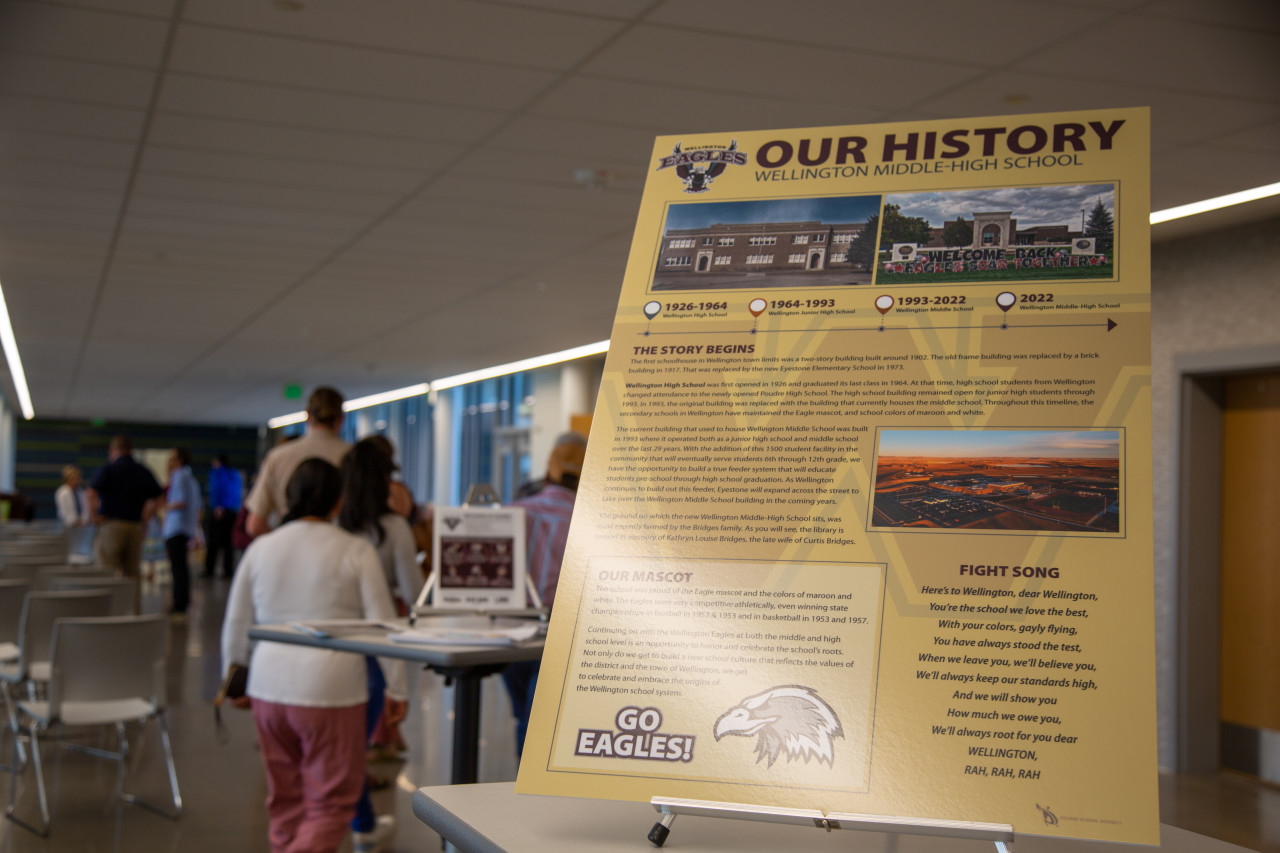 School Board Director Carolyn Reed, whose district encompasses the new school, proudly recalled childhood memories of growing up in Wellington and seeing the close-knit agricultural community take care of one another. Reed said it is special to have a school right in Wellington's backyard and that she's happy that some students will no longer have to ride the bus 1.5 hours to and from school. No student should ever miss out on extracurricular opportunities because of busing challenges like that, she said.
Thought of by many to be the heart of the town once again, the new middle-high school was a missing element to building a system of schools in Wellington that will educate students from preschool through graduation. PSD will convert the existing Wellington Middle School building to an intermediate school serving students in grades 4 and 5 (from the Eyestone and Rice elementary boundaries).
As Wellington expands with new opportunities, the future seems limitless for students like Tobin Phillips and Seneca Wall, who have big dreams.
"As we cut the ribbon for this wonderful new building we must realize as a school we have a chance to extend our hand to the community, to take advantage of this new space and to utilize our newfound resources but also to remember our heritage as a high school and middle school," said Phillips.
Although the eighth-grade student leader is excited for Friday night lights and new opportunities to bridge the gap between school and town, he hopes the community can appreciate the school's newness and history.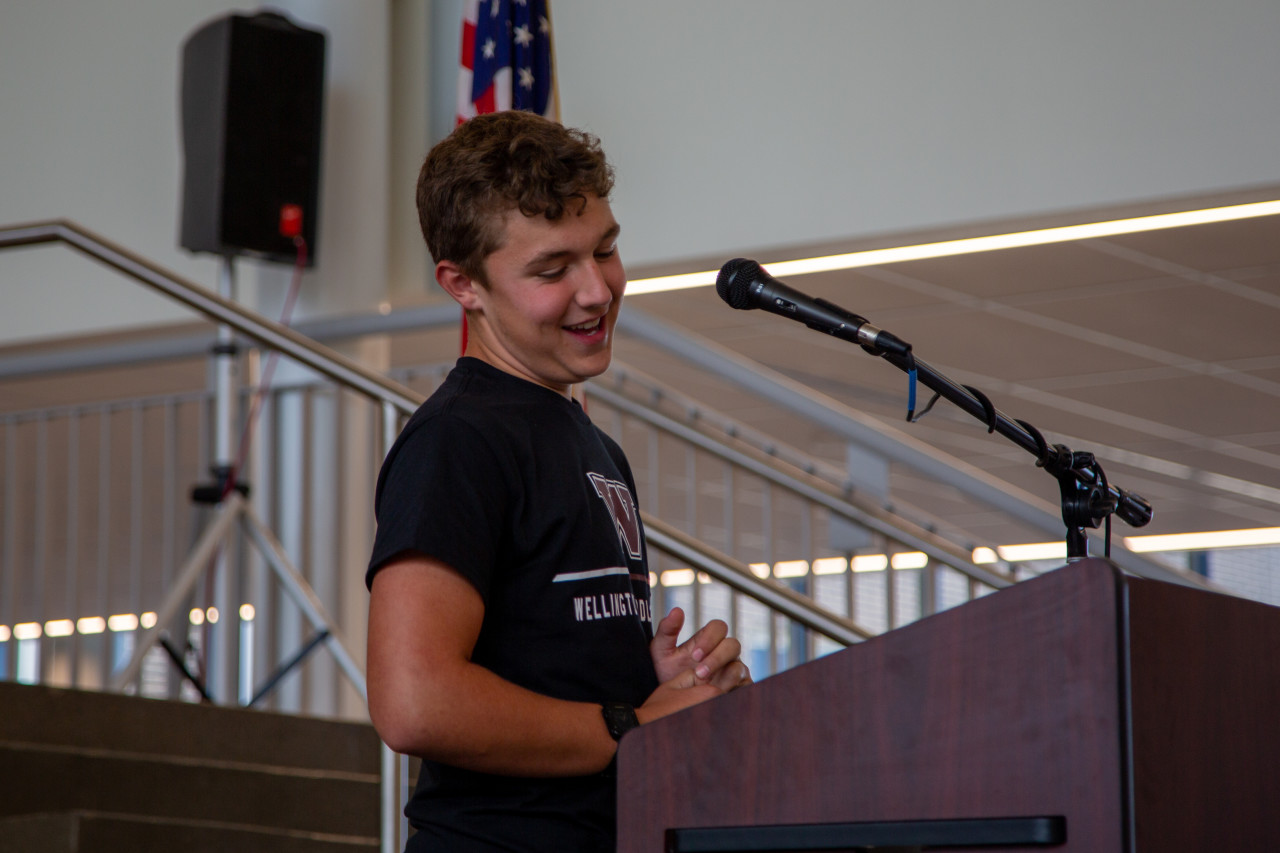 For Wall, who wants to be a park ranger some day, Wellington Middle-High School represents a pathway to fulfilling her dream. It also exemplifies her connection to her community.
"It means a lot to be a student at Wellington Middle-High School because I have a deep connection to the Town of Wellington," said Wall, who challenged her classmates to think of their educations as doors to their futures.
Together, the speakers painted a picture of Wellington's history and a shared desire to point forward -- as a school and community built upon collaboration, creating opportunities after high school graduation and creating empathetic change agents of tomorrow.
"I cannot wait for [Wellington Middle-High School] to turn into a legacy, for people to be able to say, 'I went there, my child went there,' and the system continues," said Wellington Mayor and Wellington alumni Calar Chaussee. "Our town as a whole is moving forward, and this is the first place it starts."