Earlier this week, I met Miss Morgan Barker, a teacher at Laurel Elementary School in Fort Collins. 
As I got to know her during my school visit, I learned something that touched my heart and reminded me that our experiences with public education are many and, at times, quite beautiful.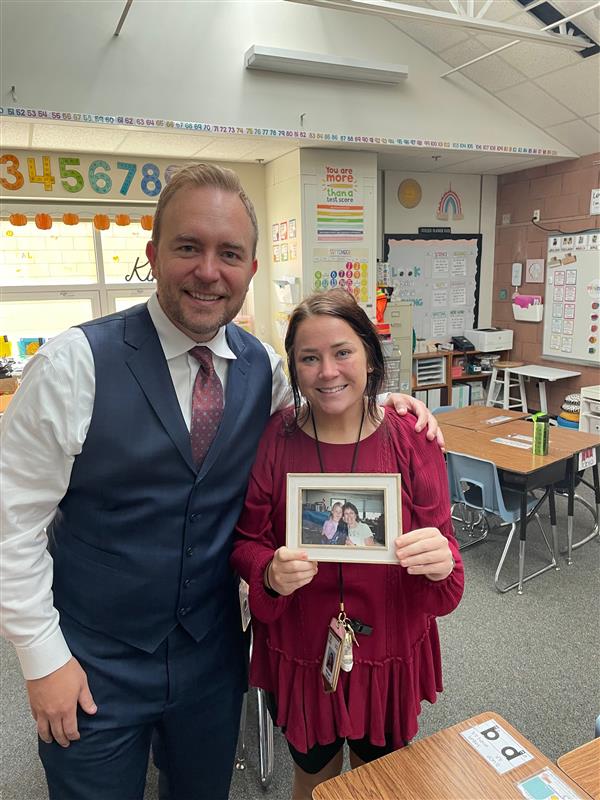 Miss Barker has a framed photograph in her classroom, which is brightly lit and accented by pops of color. Looking closely, the room in the photo feels familiar, and that's because it is. The classroom she teaches in today is the same classroom in which she laughed and learned as a young Laurel Lynx herself.  
For my new friend, public education not only created a pathway to her career. It also impacted her deeply enough that she became a teacher who challenges and empowers our students so they too can be happy and successful. 
Public education is the bedrock of a strong community and democracy. To us, it is more than an idea, it is our promise.  
The promise that our students learn to be critical thinkers. They get real-life experiences that prepare them for life after high school. And they grow into the people who will live, work, lead and love being in our community.  
Although we don't all agree on all things – and that's OK –, we can all agree that we want the best for our community's children. 
That's why PSD is building its strategic plan, and why we need your help.  
This plan will be our roadmap for the next several years and focuses on four priorities: literacy, mental health and belonging, graduating with options, and school safety.  
Our data show there are great things happening in PSD but that there are not yet great outcomes for all students. With a strategic plan to help guide us, we believe we can best support learning for all by better aligning practices across PSD. 
So where do you come in?  
Share your voice. Share your ideas.  
On Tuesday night, 55 members of our community who speak Spanish participated in the first in a series of community engagement sessions to give feedback on our draft Strategic Plan framework. I'd like to thank each of them and offer my gratitude to those who will attend any future sessions. See the full schedule >> 
 If you can't make it, don't worry. We'll capture more input through our November community survey. From there, we'll make additional edits to the plan and release the final version sometime in the first quarter of 2023.  
This roadmap will help guide our work, which is ultimately about supporting Miss Barker and all our educators as they teach our students – today and in the years ahead. 
It is my honor to serve as your superintendent. Thank you for your continued partnership.
With appreciation,  
Brian Kingsley
Superintendent