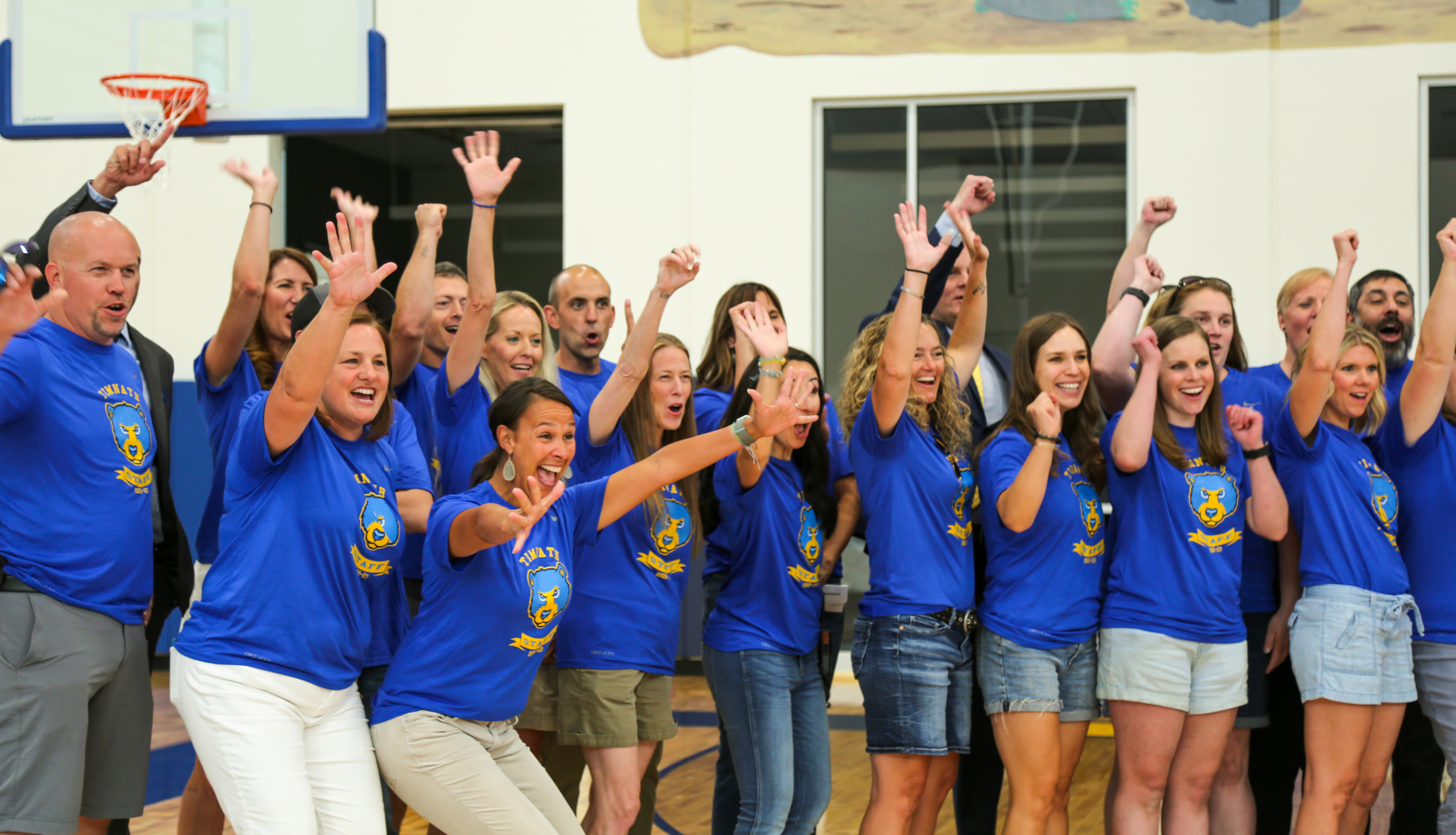 The Poudre School District and Timnath communities came together to celebrate the future while honoring the legacy of the past during the grand opening of the new Timnath Middle-High School. 
The July 22 celebration centered around a ribbon-cutting ceremony and open house attended by hundreds of community members, students and their families, local officials and school district staff.
"We are so excited to welcome our students into the building this August as we work together to build a healthy school culture and experience that we can all be proud of," said Jesse Morrill, Timnath Middle-High's first principal. "Our staff will work together … to do whatever it takes to ensure high levels of learning for all of our students. We cannot wait to get started."
Timnath Middle-High School will welcome more than 980 students in grades 6-10 when its doors open on Tuesday, Aug. 16, PSD's first day of school for the 2022-23 school year. The school, located at 4700 E. Prospect Road (east of Interstate 25), will grow to serve students through grade 12 and can accommodate up to 1,500 students. TMHS' inaugural senior class will graduate in 2025.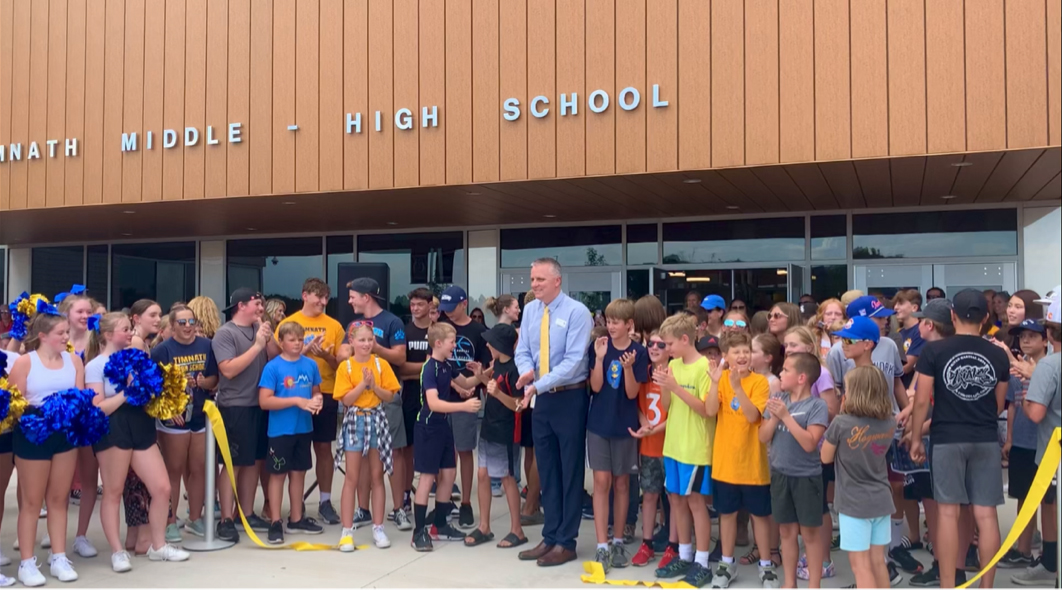 Funded by a 2016 bond, the 255,000 square-foot building is impressively designed with expansive windows to flood natural light inside the open, collaborative spaces. The school includes outdoor learning spaces, a performing arts area and a district stadium, which will host games for all PSD schools like French Field at Rocky Mountain High School. 
The opening of the new Timnath school marks the beginning of a new era for a community that hasn't had a high school as part of their town since 1960. 
"We are excited to have this Timnath school reopen again as our school," said Mark Soukup, mayor of Timnath. "By having a high school, we are a serious town again. We appreciate the school district and everyone that helped bring this about. We can't wait for this school to open."
The first Timnath school (now Timnath Elementary School) served grades 1-12 from 1919-1960. After 1960, high school students who lived in Timnath attended schools in Fort Collins. Dedicated to preserving the past, TMHS has retained the original school's mascot – the Cubs – and proudly displays athletic championship banners from those preceding high school days in the new gym.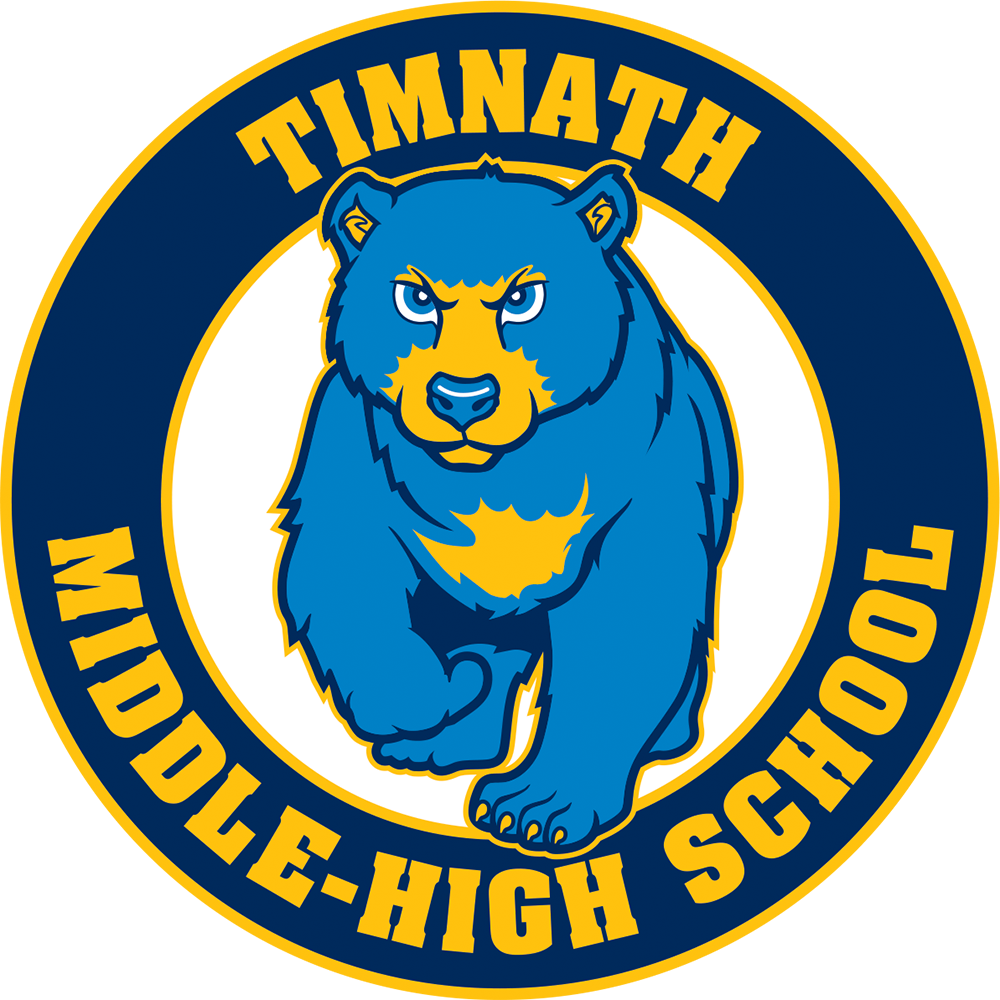 "As we open our new school, we have the honor of celebrating and anchoring ourselves in the school's history, as well as carrying on the legacy of being the Timnath Cubs and wearing blue and gold," said Morrill.
Timnath alumni Beverly Fisher Bailey (class of 1957) and Larry Siegfried (class of 1960) shared stories about growing up in the small agricultural community when "everything revolved around church and school," moving cows across I-25 and when Harmony Road was a two-lane dirt road. They also expressed anticipation and excitement for the new home of the Cubs.
"To the students who will graduate in the future, I can say I'm proud to be a graduate, proud to be a Timnath Cub," said Siegfried, wearing his high school letter jacket from 62 years ago . "I look forward to seeing the future of TMHS and how it will be an asset to the Timnath community."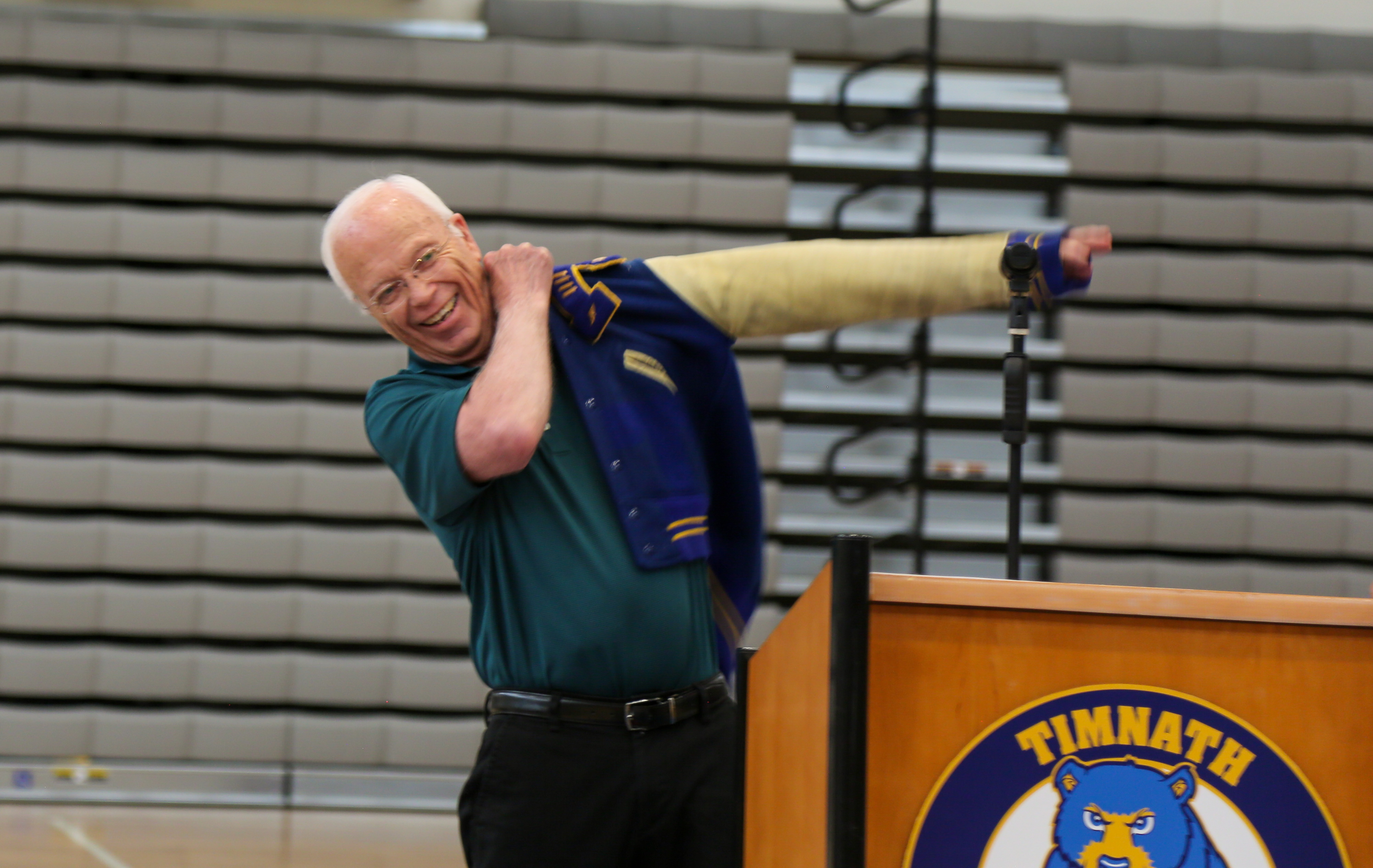 A focus at the new school will be creating and nurturing a healthy culture for students and staff, said Morrill. "This starts by committing to treating each other with dignity and respect while embracing the diversity within our community, allowing our students and families to feel a sense of belonging," he said.
High school students Mia Robinson and Julian Miraville are among a group of "ambassadors" who will mentor and connect with younger students and help create a positive experience for everyone. 
"We're looking forward to having a community where everyone feels accepted and building a culture built on dignity and respect," said Miraville.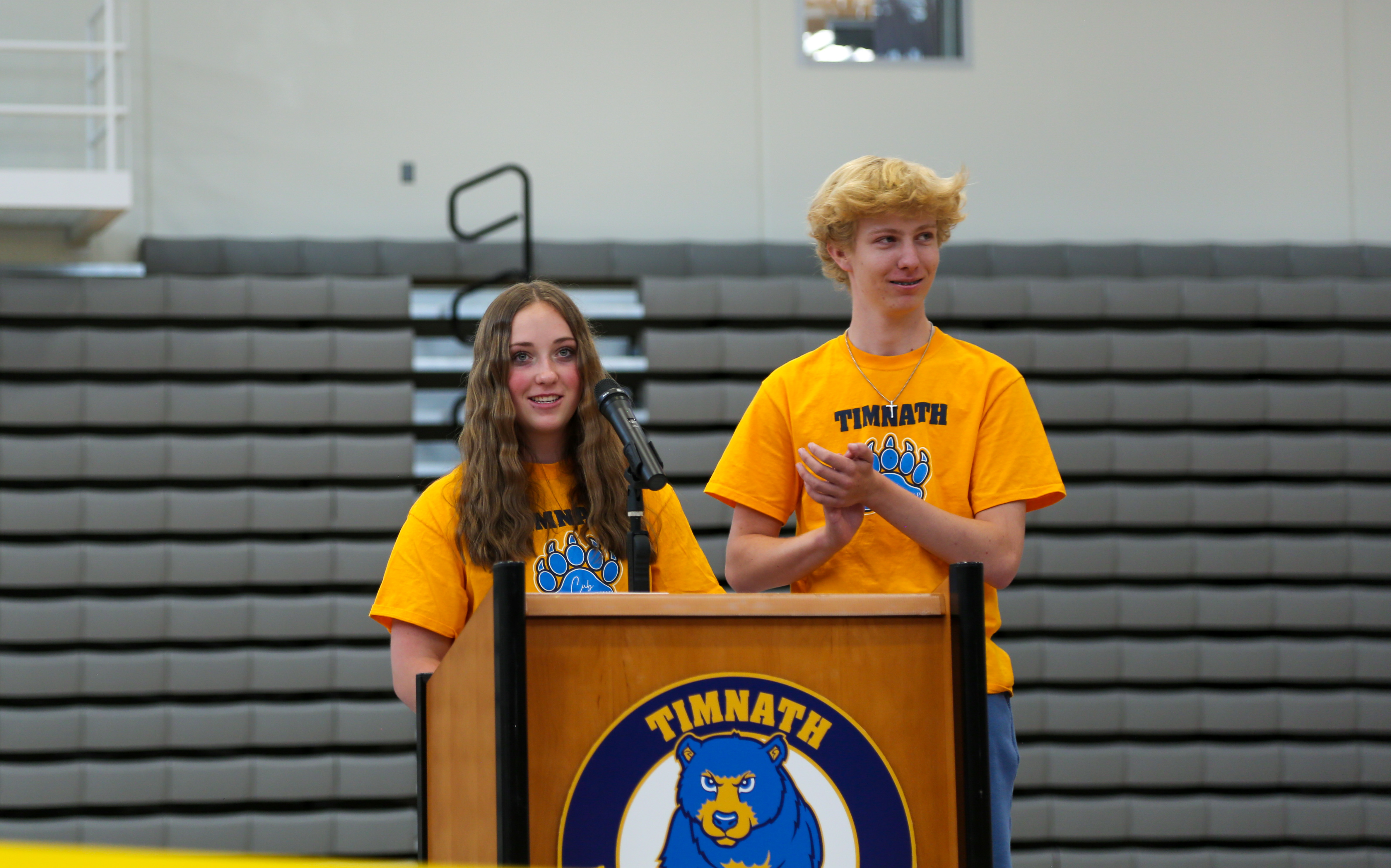 PSD Superintendent Brian Kingsley expressed his appreciation toward the community and everyone who made Timnath Middle-High possible.
"My heart is full of so much gratitude … It's because of voter support out there that this district has been fortunate to open three new facilities," said Kingsley. "Please know that this is your school … This is something for all of us to take pride in. To all constantly working in service of our community, we thank you."
TMHS is one of three new schools funded by the 2016 bond. Wellinton Middle-High School is also set to welcome students in August for the 2022-23 school year. The new Bamford Elementary School opened its doors at the beginning of the 2021-22 school year.