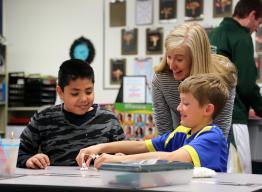 The PSD Gifted and Talented program strives to nurture the development of exceptional abilities so that all gifted students demonstrate positive self-esteem, high-level thinking and creative productivity.
Gifted PSD students are identified by their strength areas and needs. Educational programming is implemented to match their identified needs. Student progress and achievement is monitored through on-going assessment.
Gifted children are students between four and 21 whose abilities, talents, and potential for accomplishment are so outstanding that they require special provisions to meet their educational needs. Gifted students include gifted students with disabilities (i.e. twice exceptional) and students with exceptional abilities or potential from all socio-economic and ethnic, cultural populations.
Areas of giftedness include:
General or specific intellectual ability.
Specific academic aptitude.
Creative or productive thinking.
Leadership abilities.
Visual arts, performing arts, musical or psychomotor abilities