Note for 2020-2021 school year:  Because of the constraints put upon us by the COVID pandemic, administering additional testing needed for a GT referral may be problematic. If testing is possible, there may be significant delays. As always, families may submit additional data, if they have that available, which we will consider as part of the child's Body of Evidence (BOE). The timeline for GT identification could possibly take significantly longer than in past years.
Philosophy
Poudre School District's gifted program strives to nurture the development of exceptional abilities, so all gifted students demonstrate positive self-esteem, high-level thinking, and creative productivity.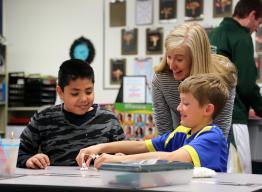 Definition of a gifted student
Gifted children are students between four and 21 whose abilities, talents, and potential for accomplishment are so outstanding that they require special provisions to meet their educational programming needs.
Gifted learners include twice-exceptional (2e) students.  According to the Colorado Department of Education, 2e students are those who are identified as gifted and identified with a disability according to federal/state criteria which qualifies them for either an IEP or a 504 plan.  Lastly, exceptional abilities or potential are present in all ethnic and cultural groups and across all socio-economic groups.
All schools in the district identify gifted learners based on a body of evidence that indicates high potential, write Advanced Learning Plans for all gifted learners, and serve GT students by differentiating instruction, providing enrichment opportunities, or providing specific services based on the needs of gifted learners.
Areas of giftedness include:

Specific academic aptitude
General intellectual ability
Creative or productive thinking
Leadership 
Visual arts, dance, music, performing arts, or psychomotor ability